TORTA PASQUALINA (Easter Pie)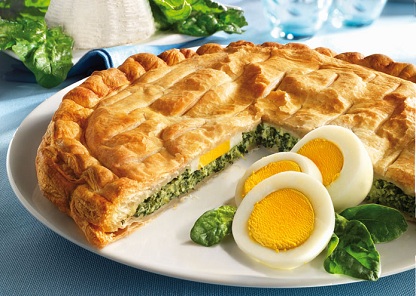 Gigliola for Easter will cook a traditional Italian Easter dish 
the Torta Pasqualina.
INGREDIENTS:
1 1/2 Pound Spinach
6 Eggs
3 Tablespoons Bread Crumbs
1 Cup Grated Parmesan Cheese
Salt & Pepper
1/2 Teaspoon Nutmeg
1 Pound Full Fat Ricotta Cheese, Drained
1 Cup Cubed Ham
2 Sheets Puff Pastry
Begin to prepare the filling of the pie by cooking the spinach in a large pot. Drain, squeeze until very dry and chop, then season with salt and pepper. Add the crumbs to the spinach in a bowl, and add the ricotta, parmesan and cubed ham, and mix well. Beat two of the eggs, and fold into the spinach ricotta mixture.
Preheat the oven to 400 degrees F.
The pastry needs to be at room temperature, roll out the two layers until fairly thin, making them large enough to cover a 10 inch spring-form pan with a good overhang to cover the filling. Lay one layer over the other to cover the bottom and sides of the pan.
Put the filling into the pan, smoothing it evenly. Make four hollows evenly spaced around the filling, and carefully crack the eggs into the hollows. Fold the overhanging edges of pastry over the top of the pie, folding to fit.
.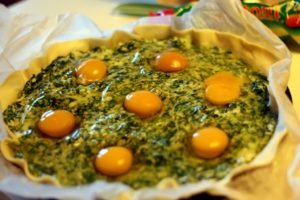 .
Beat the egg with a teaspoon of water and brush over the top of the puff pastry.
Bake for about 60 minutes, or until the pie is golden brown.
Serve warm, or at room temperature.
.
Gigliola suggests to pare the "Torta Pasqualina" with:
.
Toscana IGT Ciona Rosé – Podere Ciona Estate
Rosato Toscana Maremma IGT "Corbizzo" – Muralia Estate
Bolgheri Rosato DOC "Arcanto" – Serni Estate
Rosato IGP "Ritratto di Costa" – De Luca Estate
Negroamaro Rosato Salento IGP "Dama" – Schiena Estate
Acqua di Toscana San Felice