Summer Taste – PANZANELLA (Bread Salad)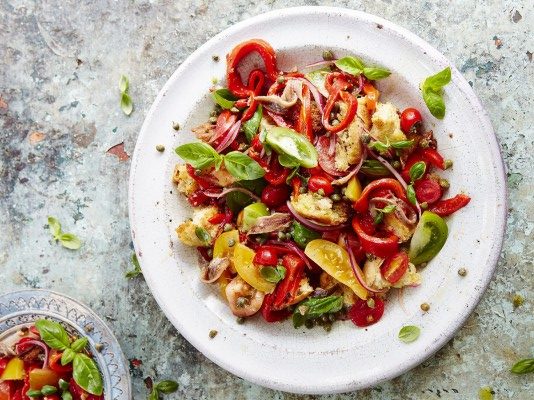 Healthy, light and fresh – the perfect summer dish if you ask Gigliola!
---
Ingredients
200 g Ciabatta bread (cut into 1 1/2- inch cubes)
300 g Tomatoes (cut into bite-sized pieces)
10 tablespoons of extra virgin olive oil
ground black pepper
sea salt
1/2 cup of chopped basil leaves
2 medium gloves garlic (minced)
2 tablespoons of white wine vinegar
1/2 cup small capers (drained)
1 small red onion (finely sliced)
1 sliced red pepper (optional)
Directions
Tear the ciabatta into rough pieces and place on a tray. Leave aside in a warm place for around 30 minutes.
Place tomatoes in a bowl and season with 2 teaspoons kosher salt. Toss to coat. Set aside at room temperature to drain, tossing occasionally, while you toast the bread. Drain for a minimum of 15 minutes. Now add the rest of the ingredients. Whisking constantly, drizzle in the remaining olive oil. Season dressing to taste with salt and pepper.
Combine toasted bread, tomatoes, and dressing in a large bowl. Add basil leaves. Toss everything to coat and season with salt and pepper. Let rest for 30 minutes before serving, tossing occasionally until dressing is completely absorbed by bread.
For this dish Gigliola would recommend the following wines:
Rosé Spumante Brut Cuvee Dal Din
Montepulciano d'Abruzzo Cerasuolo DOC "Sipario" De Luca
Bolgheri Rosso DOC "Arcanto" – Rosé Wine Serni
Toscana IGT "Ciona Rosé" Podere Ciona
Rosato Negroamaro IGP "Dama" Schiena