Lentils and porcini mushrooms pie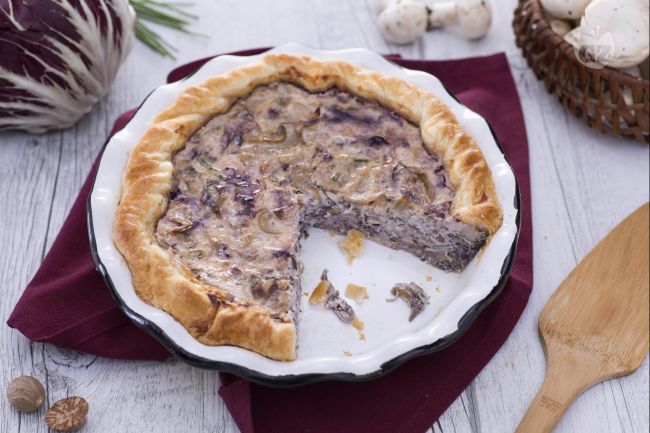 This simple and tasty recipe is vegetarian as a matter of fact, and can be cooked in a very vegan way; despite the prejudices that some have against vegan cooking, this dish is extremely nice and tasty and will be very popular with omnivores too.
It 'a typycal autumn dish, hearty and fragrant. It can be used either as a starter or as a main course and can be served either baked or cold. Excellent also the day after the preparation.
INGREDIENTS
200g of LENTILS
400g of fresh PORCINI MUSHROOMS
2 spoons of dried PORCINI MUSHROOMS
1 big BOILED POTATO
2 cloves GARLIC
EXTRA VIRGIN OLIVE OIL as required
SALT to taste
PEPPER to taste
NEPITELLA or PARLEY
1 roll of puff pastry (no animal fats for the vegan version) 
Finely chop the dried mushrooms and add them to the lentils in a pan, add a clove of garlic and water until it is two fingers above the lentils.
Boil on low heat for 30 minutes, the final consistency should be soft, almost a puree. Add salt just at the end.
Clean the fresh mushrooms and cut them into slices not too small; cook them in a pan with extra virgin olive oil, a clove of garlic and nipitella (if you have it, otherwise use parsley halfway through cooking).
Combine in a blender the peeled boiled potatoes, cooked lentils and a half of the cooked mushrooms, taking care to remove the cooked garlic.
Season with salt and pepper.
Mix (adding some cooking water if the content was too dense). The consistency should be that of a dense puree.
Roll out the pastry in a baking pan, making sure to make good edges. Fill it with the mashed lentils and porcini mushrooms.
Bake for 20 minutes.
Freshly baked garnish with the remaining mushrooms and serve immediately or let it cool down.
You can pair this dish with these wines:
Barbera d'Alba Superiore DOC Demarie
Chianti DOCG Harmonia, Podere Fornace
Maremma Toscana Rosso IGT Manolibera, Muralia
Rosso Conero DOC, Marchetti