LASAGNE ALLA BOLOGNESE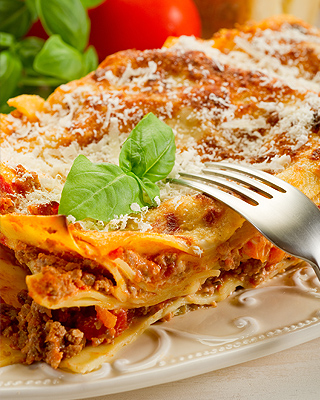 A hearty lasagne recipe using both Bolognese sauce and Béchamel to make for one rich, satisfying meal. While in Italy, lasagna is traditionally reserved for holidays or big Sunday meals, preparing and freezing your sauce ahead of time makes it easy enough to have any day of the week.
Ingredients:
Directions:
Preheat oven at 350˚F.
Begin by layering lasagna sheets to cover the bottom of a 13 by 9-inch baking dish. Spread Béchamel over noodles with a ladle. Layer more lasagna sheets, then spread the Ragù on top. Sprinkle with Parmigiano-Reggiano. Alternate this way until you have used up all the ingredients, finishing with a generous layer of Béchamel dotted with the remaining Ragù and a generous sprinkling of Parmigiano-Reggiano.
Cover the baking dish with aluminum foil and bake for 40 to 45 minutes.
Uncover and bake for another 20 minutes until hot and bubbly.