Chestnuts Season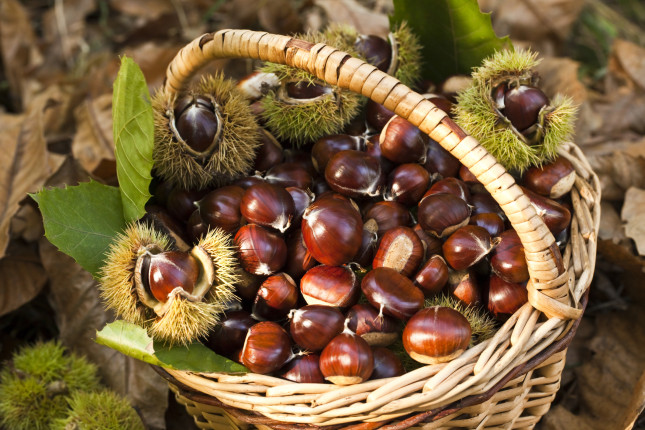 Castagnaccio is a typical,  gluten free, autumnal Tuscan dessert.
Made with a few simple ingredients: chestnuts flour, water, pine nuts raisins, walnuts, rosemary and oil. Born as a poor dish it has become one of Tuscany's favorite cakes to be eaten all year round, warm or cold.
.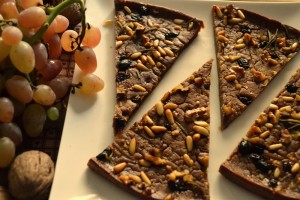 .
Since you can eat it just with your hands they say that it "warms up heart and fingers" during the cold winter.
Ingredients:
500g chestnut flour
500 ml of water
½ glass extra-virgin olive oil
100 g pine nuts
100 g peeled walnuts
80 g raisins
a spring of rosemary
Sieve the flour and knead with water until the dough is smooth and creamy
Soak the raisins and the pine nuts for about 10 minutes in warm water, then rinse them
Grease a baking tin with extra virgin oive oil
Pour the mixture made of chestnut flour and water in the baking tin
Top the castagnaccio mixture with rosemary needles, pine nuts, walnuts and a drizzle of oil
Cook in fan oven at 200°C for 25 to 30 minutes
To pair with this typical cake CTG suggests
Rosso Toscana IGT "Capitozza" – Podere di Marcialla Estate
Merlot di Toscana IGT "Le Diacce" – Podere Ciona Estate
Primitivo di Manduria DOP "Impero" – Schiena Vini Estate
.
contact CTG
[contact-form-7 id="2408″ title="Information inquiry"]
.