RAGU' ALLA BOLOGNESE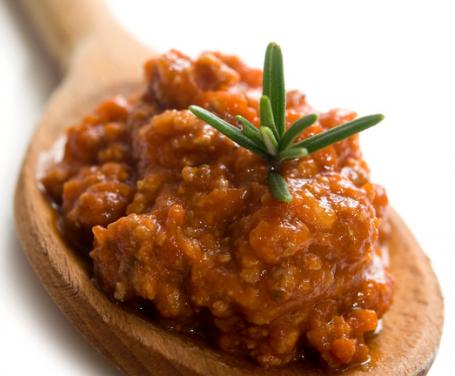 Rich and meaty, the ultimate comfort food, Bolognese sauce is served best with wide ribbons of eggy pappardelle and grated Parmigiano-Reggiano. 
Ingredients:
3 celery stalks, finely chopped
2 medium onions, finely chopped
2 medium carrots, finely chopped
4 cloves garlic, minced
1/4 cup Olive Oil
1/4 pound Pancetta, ground in a food processor until finely chopped
1 pound ground veal
1 pound ground pork
1 (6-ounce) can Tomato Paste
1 1/2 cups whole milk
1/2 cup dry white wine
1 cup water
Salt and pepper
Directions:
In a food processor, pulse first 4 ingredients until finely minced. This will help them melt into olive oil. Sauté vegetables in olive oil over medium heat in a large sauce pot. Stir until softened, about 8 minutes.
Add pancetta, veal and pork. Cook, breaking up with spoon, until no longer pink. Stir in tomato paste, milk, wine and water. Cover and simmer until sauce is thickened, about 1-1 1/2 hours.
Remove from heat. Salt and pepper to taste.