BESCIAMELLA SAUCE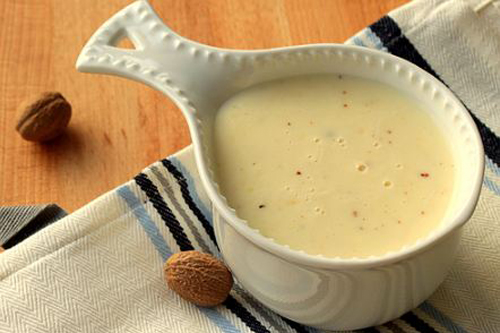 Besciamella is an integral part of most baked-pasta dishes. It is also used for binding together ingredients as in meatballs and stuffings. This is one recipe you should keep on hand!
Ingredients:
6 tablespoons butter
1/4 cup all-purpose flour
4 cups of hot milk
2 teaspoons salt
1/4 teaspoon freshly grated nutmeg
Directions:
Melt the butter in a large saucepan over medium heat. Once melted, slowly stir in the flour until smooth. Continue stirring as the flour cooks to a light, golden color, about 3 minutes.
Increase the heat to medium-high and slowly whisk the hot milk into the roux. Bring to a simmer, then reduce the heat to medium low. Continue simmering until the flour has softened and become completely smooth, about 10 to 15 minutes. Season with salt and nutmeg. Put the sauce aside until needed.
NOTE: If you are preparing fish lasagna, replace some of the milk with the clams-and mussels-filtered water or commercial fish broth. Nutmeg is not necessary.
Yields enough for 1 lb of dried lasagna or 1 ½ lbs of fresh homemade lasagna