PODERE CIONA ESTATE
Toscana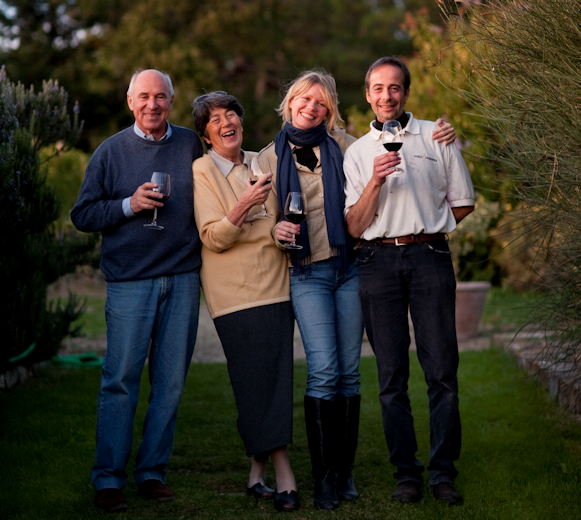 | | |
| --- | --- |
| Gaiole in Chianti – Toscana | |
Franca e Franco Gatteschi were looking for a place in the countryside to retire to, after many years of working in Italy and abroad, when they came across a small, beautiful – albeit run down – property: 100 acres of land, mostly wooded with 10 acres set aside for cultivation, of which 2.5 already had vineyards; a house from the XIX Century, abandoned for more than 40 years; and, above all, a view without equal on the Chianti hills, with Siena in the distance.
They purchased the estate at the beginning of 1990. They also set up a small but well equipped wine cellar to deal with the existing vineyards. The great 1997 vintage, saw the birth of the first "official" wine of Podere Ciona: a Chianti Classico DOCG Riserva.
Between 2000 and 2003, the Gatteschis decided to replant all the available land with vines, build a new wine cellar that would be needed for the larger production and purchase another small property not far from Ciona, destined to become their "agriturismo", today Le Diacce.
Podere Ciona is situated in the Comune of Gaiole in Chianti, in the region of Chianti Classico – Gallo Nero. One of the oldest 'poderi' in the area and once property of the nearby Badia a Coltibuono. The soil is primarily composed of weathered sandstone and is ideal for high quality viticulture. The vineyards today extend over an area of about 10 acres, orientated south-southwest, and have been planted primarily with Sangiovese and Merlot and with a little Alicante Bouschet. Production is kept low in order to achieve quality wines, on average 1 bottle per plant.
Hectares 5.2 – Annual bottles 25.000
AWARDS
FALSTAFF 2016
CHIANTI CLASSICO RISERVA 2012: 91/100
CHIANTI CLASSICO RISERVA 2009: 91/100
ROSSO DI TOSCANA IGT "LE DIACCE" 2007: 90/100
WINE SPECTATOR 2013
ROSSO TOSCANA IGT "LE DIACCE" 2006: 91 points
SELEZIONE VINI TOSCANA 2013
"LE DIACCE" 2007
GILBERT & GAILLARD 2017
CHIANTI CLASSICO RISERVA2013: 92/100