PUMPKIN RAVIOLI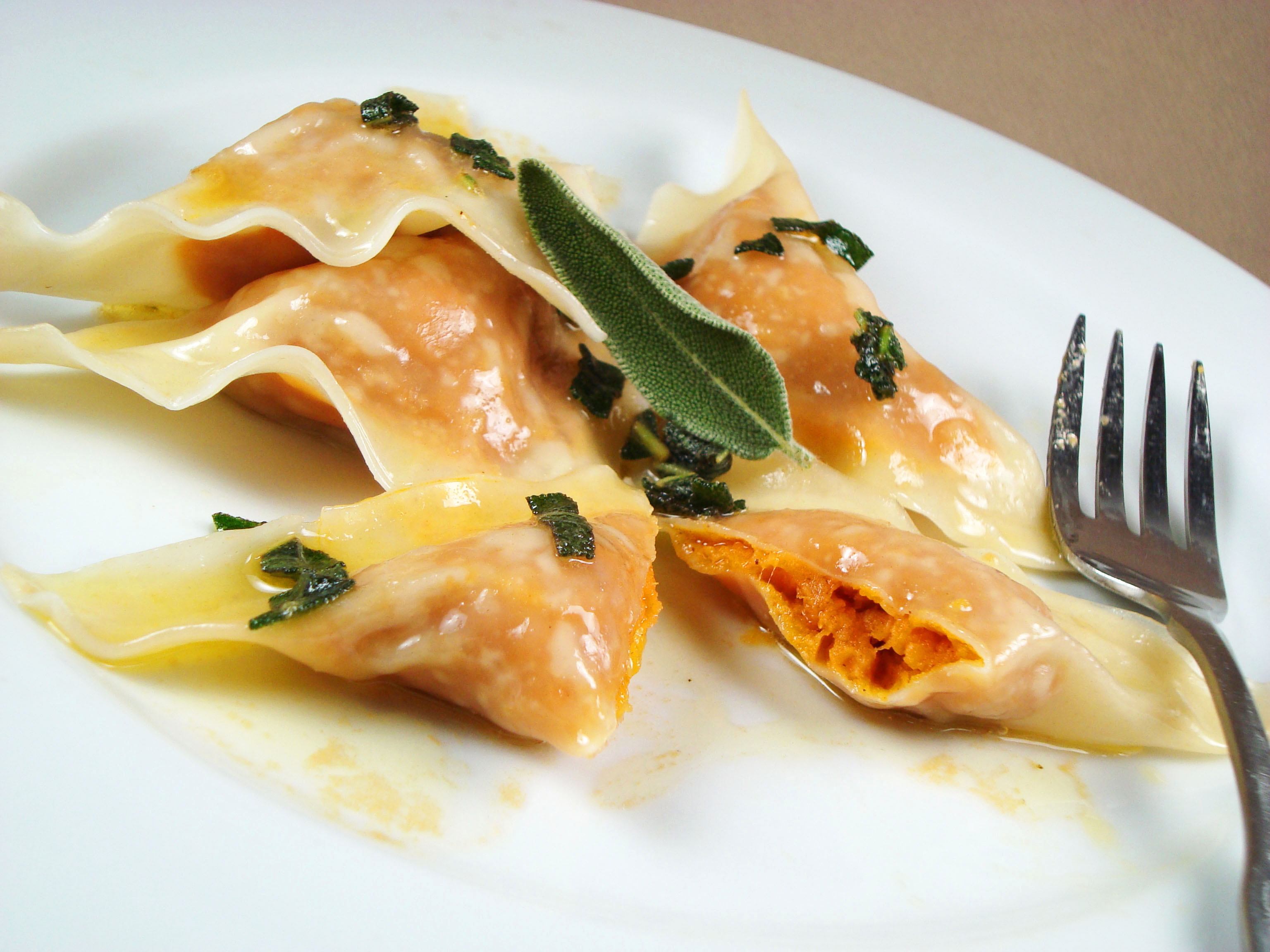 A typical fall recipe, having its roots in the nothern Italian tradition of "stuffed pasta" and very popular between Emilia and Lombardia. It is a delicate, tasty and nutritious first course, despite the simple sauce of melted butter, sage and Parmesan cheese. In some area's tradition, the dressing can be different, with onion and bacon, tomato sauce or even with "ragù".
Ingredients
Eggs: 4
Flour: 400g
Pumpkin: 1kg
Apple or Cremona "mostarda" (sweet and spicy sauce): 3/4 spoons
"Amaretti" biscuits: 100g
Parmesan cheese: 100g for stuffing and as required for dressing
Salt
Nutmeg
Breadcrumbs
Butter: 100g
Sage: 1 sprig
Prepare the dough by placing the flour ed joining the eggs in the center. Knead until the dough is smooth and elastic. Place to rest for at least 30 minutes.
Bake the pumpkin, cut into pieces, 180/200 celsius until it is soft (about 30 minutes).
Remove the peel and pass with the mill. If the past is wet put it in a damp clean cloth and wring out the exceeding water.
Put the passed pumpkin in a bowl and join 100g parmesan cheese, the finely chopped "Amaretti", a pinch of salt, finely chopped "mostarda" and add nutmeg to taste.
Stir and adjust the consistency by adding breadcrumbs.
Leave the filling to rest for a quarter of an hour at least.
Roll out the dough into thin strips of "pasta" ten/twelve centimeters wide.
Place the stuffing in small balls at about three centimeters a hand, and fold the strip to "bag" the filling.
Cut the ravioli and seal them along the three open sides with a fork.
Place the ravioli in a tray sprinkled with  flour as they are prepare.
Cook the ravioli in boiling salted water (The time depends on the thickness of the pasta).
Meanwhile, melt the butter with the sage until this sizzles, without let  the butter darkening too much.
Drain the ravioli and dress with melted butter and abundant parmesan cheese.
Wine pairings: Rosè spumante brut cuvèe, Collio Pinot Grigio DOC, Verdicchio dei Castelli di Jesi Classico Superiore DOC Tenuta del Cavaliere