DARK CHOCOLATE GOODIES WITH RAISINS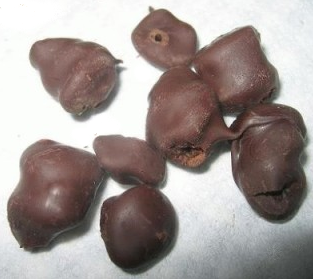 A simple and tasty recipe for a wonderful after dinner. The dark chocolate goodies with raisins of Gigliola will win you over and it will be hard to stop after having tasted the first. A very good suggestion to spend a relaxing after dinner chatting with friends, combining one of the best Grappa of Villa de Varda distillery, the Grappa di Moscato Stravecchia "Albarel".
Ingredients
raisins 100g
dark chocolate 75% cocoa 100g
Soak the raisins in a bowls with warm water for 15/20 minutes and then drain it well.
Break the chocolate into small pieces and place it in a metal bowl.
Put the bowl in a container with hot water so as to melt the chocolate in a bain-marie.
It is also possible to melt the chocolate in a microwave, taking care not to heat it too much; it is important to make at least two short cycles, the first of 30 seconds at medium power and then mix with a spoon; a second cycle and then mix again. The chocolate should not be too liquid
Once melted the chocolate, with a toothstick take one or two raisins and soak then in the melted chocolate..
Then thread the other end of the toothstick in a potato and let it cool.
Repeat until you finish all the berries..
If desired, it is possible to repeat the whole operation with the grapes already coated to obtain a thicker layer of chocolate.
Let them completely cool at room temperature (in the fridge if the ambient temperature is above 22 degrees celsius) and enjoy them combined with the Grappa Moscato Stravecchia "Albarel" of Villa de Varda